NoGoD
1. února 2012 v 22:01 | Megumi
1. února 2012 v 21:53 | Megumi
29. července 2011 v 17:50 | Megumi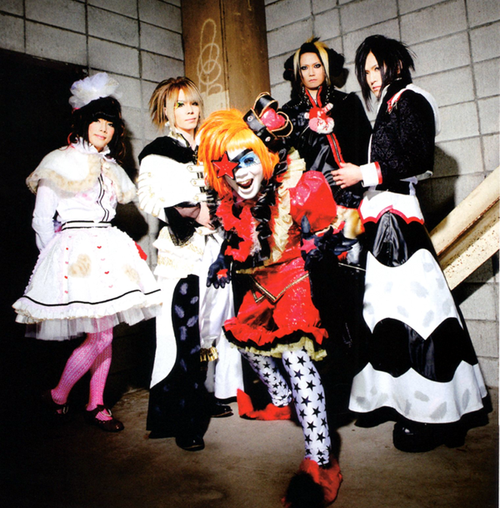 20. července 2011 v 15:48 | Megumi
Kamikaze : a toto sa stane, keď chvíľu nedávam pozor >.< zabudnem tu dať PV...a povedzte, že nieje super >:D
8. července 2011 v 14:19 | Megumi
Kamikaze : škoda, že len 30 sekúnd =_= a pre info : je to k tretiemu singlu 「神風」Kamikaze :)
8. července 2011 v 14:16 | Megumi
NoGoD bola založená v Tokiu v marci 2005, ale prvých 6-7mesiacov kapela strávila cvičením a plánovaním - alebo, ako hovoria sami, "experimentálnym šírením. Kapela najskôr zhromaždila ostatních členov. Pracovali v tichosti, aby mohli začať naplno a nie sa zviditelniť hneď a postupne sa lepšiť.
Nakoniec 19.októbra 2005, NoGoD mali ich prvý koncert.
Po menej než mesiaci, boli pripravený na vydanie ich prvého singla, 「君に贈る不器用で身勝手な詩」 [Kimi ni Okiru Bukiyou de Migattena Shi]. Koncom roka 2005 a začiatkom roka 2006, NoGoD žili oddelene (neviem, ako to mám brať) , až 24. februára vydali tzv Mini-Album 「天罰円盤」 [Tenbatsu Enban]. NoGoD nespomalila až 9. apríla NoGoD prišila s novým singlom 「櫻/君は月を掴む」 [Sakura / Kimi wa Tsuki wo Tsukamu]. V júni sa objavila na slučke "Loop of Live VI Various Artists compilation album" s piesňou "No God" a vydala živé CD ktorý obsahoval len jednu pieseň s názvom 「この世界に見放されても」 [Kono Sekai ni Mihanasaretemo]. 12. júla vydali prvý singel po dvoch mesiacoch. Singel sa volal 「赫布教」 [Ifukyou]. Druhý singel bol vydaný 30. augusta, a volal sa 「黒布教」 [Kurofukyou].

Členovia pod perexom
---